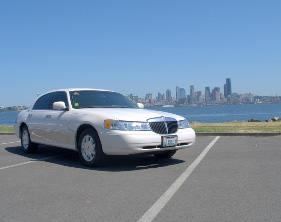 Getting around the Seattle area can be stressful. Using a Seattle Town Car service is a great way to avoid traffic and the hassle of driving yourself around town.
Executives often use Seattle Town Car services as it allows them to travel back and forth from the office quickly. With the convenience of a hired driver allows time to do work, make phone calls, read trade journals, or do other tasks necessary to keep a business running strong. However, executives are not the only ones who can take advantage of the luxuries of a Town Car service.
After a long journey, having a car pick you up at the airport means a safe, quiet ride home or to the office. Having a professional driver pick you up and drop you off just makes sense if you do not want to pay high parking fees or deal with the hassle of traffic while driving to Sea-Tac International Airport. A town car also offers a safe alternative to driving home tired after a long flight.
Tourists and other visitors can also take advantage of the benefits a Town Car service provides. Rather than navigating through unfamiliar streets or through heavily trafficked areas while on vacation, a professional driver can get visitors to their destination quickly while allowing them to take in the sights and sounds of the Emerald City.
A Town Car service offers safe transportation on special nights as well. Hiring a service for a prom, bachelor/bachelorette party, or wedding party allows everyone to have a great time without worrying about driving home. There is no need for a designated driver among the party goers.
When you need to get from one point to the other, call Amy's Limo Seattle Town Car service.